Delicious fish is beautiful.
To start, please have a look.
The quality of girth, color and shine.
The original sweetness and texture that is common of fish when eating raw.
Balance of fat and sweetness.
Even the local fishermen who have been blessed with seafood fortunes for a long time will admit that our cultivated fish is of quality compared to what they usually find. We deliver fresh and beautiful fresh fish.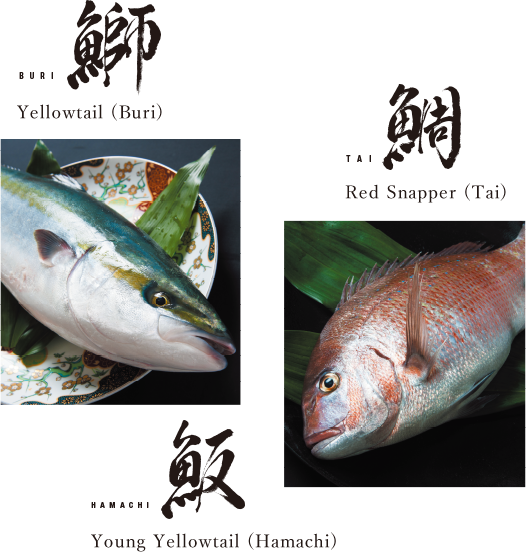 Appearance
The shape of each carefully cultivated fish is inspected individually by craftsmen with love to ensure there is no variation in quality.
Unlike natural products that vary depending on timing etc. we manage the amount and the quality of fish by controlling the quantity of feed. We can supply the amount you need, at the time you need.
In addition, we can provide fish in line with the quality desired by consumers in a systematic manner, such as aligning sizes according to processing and distribution.
Color / Body
Using our know-how and using special bait, we cultivate our fish in an environment where the fish will not accumulate stress, growing fish that are durable and lively, with the best taste.
In the privileged fishing area of Sukumo Bay, fish caught are firm with full color and beautifully shaped, almost the same as found in nature.
This is the fish cultivation of craftsmen.
Taste
Fish raised with the know-how and unique expertise of cultivating craftsmen can be timely shipped at the peak of deliciousness.
With a balanced amount of fat and texture, we will always offer you the best quality and condition.
From the moment we select the fish from the water to the timing of the shipment, we will deliver as is, maintaining the taste, freshness and quality.
Hamacho's commitment.
Integrated system

Complete and consistent system from raising to processing.
We remove fish from the water, bleed out completely, box and ship in the best possible conditions to ensure freshness.
We are able to respond to various needs because of our method and consistent system.
In order to deliver the taste as it is to consumers, we adhere to our consistent system.

Maintain freshness

By working backwards from the time that we put our fish on display, we select our fish from the water, ensure a perfect temperature to keep the fish cool allowing us to deliver the best possible quality to the consumer by following a detailed system.
With our know-how and consistent management system, we are able to provide high quality fresh products that are better than catches in natural environments throughout the year.

Hygiene management

We use bait that is the highest quality without fail.
The food we provide our fish does not deteriorate in the water, ensuring that almost 100% of it is eaten by the fish allowing us to effectively manage the quality of the water while taking great care of and preserving of the environment.
In addition to periodic health management, we also focus on monitoring aquaculture environments.
We will provide quality fish that are safe with an integrated system from selection to delivery.

Safety and quality

At Hamacho, we concentrate on cultivating in an environmentally conscious environment.
We strive to cultivate healthy fish one by one using our experience and achievements.
We only provide our fish with the highest quality feed and nothing else.
We do not compromise on providing safe and delicious fish. This is our promise at Hamacho.